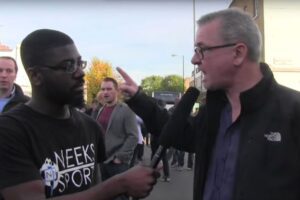 The Chelsea fan who went on an abusive rant following Liverpool's 3-1 win at Stamford Bridge recently has been sacked by the law company where he worked.
Clive O'Connell, who was a partner of legal firm Goldberg Segalla, was speaking to fan-run website Neek Sports after the game when he was asked for his thoughts about Blues manager Jose Mourinho.
He said: "Why do you think the Scouse scum are singing 'you're getting sacked in the morning' when we sang to Benitez 'we want you to stay' when he was managing Liverpool? Even those nasty, horrible people know that Mourinho is the best manager in the world – they're scared."
The enraged O'Connell didn't stop there, and is said to have posted a blog online which claimed that older men from Liverpool looked like Jimmy Saville.
The blog, entitled 'Driver on the Wing's Weather for Chelsea v Liverpool', was credited to O'Connell by a number of fan websites and included offensive comments such as: "Liverpool, if not its people, is as a city, today, inbred."
The blog has since been deleted. In addition, he took to Twitter to engage with both anti-Mourinho Chelsea and Liverpool fans, telling one to: "Crawl back to your horrible Merseyside home."
Goldberg Segalla tweeted a recorded message from managing partner Rick Cohen to confirm O'Connell's dismissal at around midnight on Sunday.
https://www.youtube.com/watch?v=l0B_OQIskK8
He said: "Clive O'Connell's comments are entirely inconsistent with our ethos. His words are offensive, plain and simple. His conduct doesn't rise to the standard to which we hold ourselves and for these reasons we have terminated our partnership with Mr O'Connell, effective immediately. We are extremely proud of the respectful and giving culture that we worked hard to build."
Lifelong Chelsea fan O'Connell, an accomplished solicitor, had apologised for his comments, claiming he "let his emotions get the better" of him.
Speaking to the Evening Standard, he said: "I was very disappointed in the aftermath of Saturday's game. I clearly regret this and any offence that I may have caused by my hot headed and regrettable reaction, which was inappropriate whether or not caught on camera."
Mr O'Connell is not the only man to land himself in trouble for comments aimed at Liverpool. Irish journalist, Ian O'Doherty, was speaking on an Irish Radio show this weekend when he said that Liverpool "goes through so many commemorations of disaster and deaths" that the club should have permanent black armbands on their shirts.
The statement has been met with anger from Liverpool fans, however Mr O'Doherty is yet to comment or apologise for what he has said.