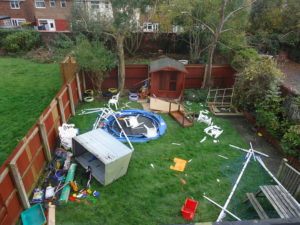 A Fazakerley charity project for disabled people that was vandalised last week is slowly getting back on track with the help of the local community.
The Fazakerley Special Needs project aims to enhance the lives of those with a disability or special needs through various activities.
The charity recently raised £500 for their garden project but it was destroyed by vandals last week. The clean-up is still ongoing but the garden is now clear of graffiti and mess.
Project Co-ordinator Eamonn Leavy, 59, told JMU Journalism: "We have had a group of people in that have cleared up the back garden. We have had lots of support from the local community.
"We have received a lot of letters from the public and offers from local councillors and obviously our volunteers to help with clearing up. We are getting there."
All of the toys from the garden were smashed and will need to be replaced. Mr Leavy, who has worked at the centre for 15 years, described it as "a great shame".
Charity administrator Anne Willdridge told JMU Journalism: "We had a fantastic response from officers from Lower Lane police station. Not only did they come very quickly when we reported the incident but they also sent two Community Service Officers to come and help us clean up the debris and fit some anti-vandal measures to the perimeter of the garden."
The police donated £200 to help with replacing some items in the garden. The charity relies on donations.
Anne said: "It means a lot to our projects that people recognise that the project is a valuable and valued local resource for disabled people in the North Liverpool area."
The clean-up will continue this week with help from volunteers.