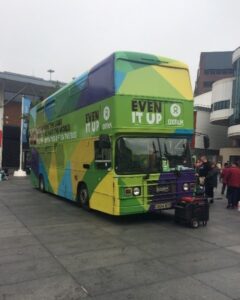 The charity Oxfam came to town at the weekend as part of a campaign called 'Even It Up' to address the economic gap between the rich and poor which it says is causing damaging inequality.
With help from the European Union, the charity designed a campaign bus that is currently travelling to five UK cities to help spread the word that more needs to be done about tackling poverty.
From Glasgow, the 'Even It Up' bus headed for the North West and was in Williamson Square on Saturday to make the people of Liverpool aware of what is a growing political problem.
Kelly Mundy, campaign network co-coordinator, explained the idea behind the bus: "There are 80 people in the world which could fit on this bus, these 80 people have got the same amount of wealth as half of the world combined.
"The reason why this is happening is due to the legislation, policies and systems that are allowing this to happen."
Oxfam believes the gap between the rich and poor is spiralling out of control and despite the huge progress over the last four decades in reducing poverty, it is still a critical problem within some countries.
Mundy said that a fair tax system was needed, adding: "At the moment we have big business corporates who, because of the rigged rules, they don't have to pay tax and can often use offshore accounts, this means the businesses are not paying what they should.
"Oxfam is not against wealth or people having money but we have people at the bottom of the spectrum who can't even access proper healthcare and education."
The buses next stop are:
Cardiff (St Mary Street): Thursday 15 October: 10am-7pm
London, Islington Green (Angel): Saturday 17 October: 10am-6pm
Birmingham, Victoria Square: Saturday 24 October, 10am-6pm