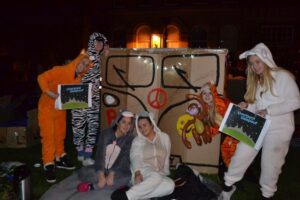 The idea of spending a night on the streets instead of a warm bed may not appeal to everyone, but spots are running out as a charity event to raise awareness of homelessness in the city beckons.
The Whitechapel Centre is preparing to host its third annual sponsored 'Liverpool Sleepout', in the grounds of St Nick's Church near the Pier Head, on Friday October 14th.
Those who take part will give up an evening of their home comforts in return for beds made out of cardboard, plastic sheeting and tape.
The Whitechapel Centre is open every day throughout the year and provides a service to rough sleepers, people living in temporary accommodation, and those at risk of becoming homeless.
The centre's fundraising manager, Ruth McCaughley, told JMU Journalism: "This year's event is almost full, with around 200 people signed up. Everyone is now busy collecting sponsorship and we hope to raise much-needed funds to help us support the increasing number of people who are homeless in Liverpool."
YouTube: Merseyside Scouts blog
Government figures show that the number of people sleeping rough has doubled since the year 2010 and increased by 30% in the last year. An estimated 3,569 people per night are now sleeping on streets across England.
Last year, the Whitechapel Centre helped more than 2,600 locally, through offering a range of facilities, such as a warm breakfast for rough sleepers, showers and laundry facilities.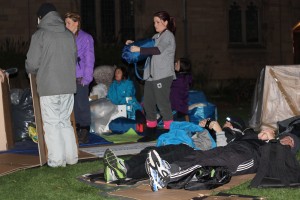 Local girl, Rachel Barrett is one of the many people who will be taking part in the sleep out. She told JMU Journalism: "I work at Nando's in Queen Square and we help The Whitechapel Centre by donating our cooked chicken product waste at the end of night so they can use it for soups, stuffings and stews. Seeing how they help first hand is a real eye-opener and that's what inspired me to help."
In order to keep morale boosted amongst participants at the Liverpool Sleepout, there will be prizes up for grabs for those who take part in a number of competitions, such as 'Best Shelter' and 'Best Onesie'.
The volunteers will experience life as a homeless person as realistically as possible, however stewards will patrol the area to make sure people are safe, and there will be access to toilets and refreshments throughout.