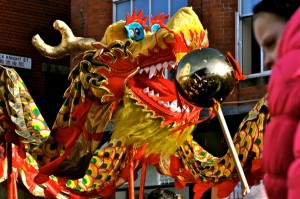 Liverpool is getting ready to celebrate Chinese New Year this weekend, with the annual parade taking place in Chinatown on Sunday ahead of the start of the year of the monkey, which begins the following day.
Today, there are around 10,000 Chinese residents living in Liverpool and its surrounding areas – the largest Chinese population in the UK outside of London – and a range of activities have been planned for all the family.
The main event will be Sunday's traditional Chinese Lion, Dragon and Unicorn Dance in Berry Street starting at 11.30am, as well as a Tai-Chi demonstration in Great George Square between 11:30-12:15, followed by a firecracker display in Great George Street at 1pm.
A thousand lanterns will decorate Nelson Street and the surrounding area over the weekend as thousands of revellers gather for the celebrations and, for those interested in sampling Chinese cuisine, there will be a street market along Great George street from 11am-4pm.
Street performances by members of the Pagoda Chinese and Wah Sing Chinese Community Centres will also entertain the crowds, with members of the public encouraged to join in.
You can also visit the Black-e during Chinese New Year to enjoy a display by the Movement dance crew as they perform a fusion of classical Chinese, Kung Fu and contemporary dance moves.
Alan Seatwo, First Vice Chair of Liverpool Chinese Business Association, told JMU Journalism: "After all the planning, we hope it will be a good turn out. It's very much depending on the weather, fingers crossed, but we hope our visitors will enjoy their visit to Chinatown and its nearby areas and have a good experience from the performances and events.
"The key objective is to create a platform where both Chinese and non-Chinese can share some of the common values: offamily and social harmony.
"For businesses, we hope it will generate a decent amount of revenue for them. For the city as a whole, the event demonstrates it is a multi-culturally diverse and friendly place where everyone always feels welcome."