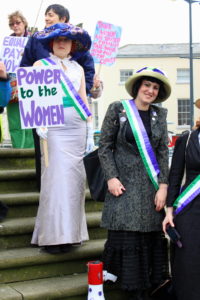 Women and men gathered in Liverpool on Saturday to celebrate womanhood, as well as protest against the struggles and inequalities that females face in the UK and all over the world.
Various events took place in the city in aid of International Women's Day, which is celebrated on March 8th every year.
People gathered on the steps of St Luke's Church at the top of Bold Street to hear speeches and songs about the issues concerning inequality for women, before heading down to the Bluecoat's Display Centre where other events were taking place.
Hannah Ryan, 29, a doctor at the Royal Liverpool Hospital and member of Merseyside Women's Movement was one of the event leaders and she spoke about the unfairness that women face in the city.
She told JMU Journalism: "We think International Women's Day is a really important day to draw attention to the inequalities that women still face in all parts of our society and especially the economic inequalities that women in this city face.
"In Liverpool we have a service sector-led economy and a lot of women in this city work in public sector jobs which are being cut or facing reorganisation. We have an obligation to draw attention to those issues which our media doesn't really highlight as being gender-related issues.
"We also live in a society where violence against women is still common and where not enough is being done to prevent this and to bring perpetrators of violence to justice.
"I want to live in a community where I feel safe walking around the streets, where I feel safe being in pubs and bars. I don't want to face sexual harassment and I don't want to feel that I'm at risk of sexual violence and many women are in that situation.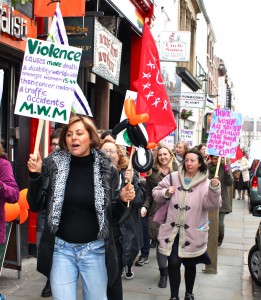 "We need to come together and do something about it."
'Unite the Community' banners were held aloft and chants such as "the women, united, we'll never be defeated" could be heard amongst the gatherers.
Public sector cuts and benefits reductions were amongst the range of issues aired by the protesters.
Emma Segar, from Angry Women of Liverpool, was one of several people dressed as suffragettes to highlight the struggle for women.
She said: "We want to highlight the fact that despite having the vote for nearly 100 years, it doesn't seem to have done us a whole lot of good when the government and the council vote for cuts that have these effects. The fight goes on."
The women dressed as suffragettes later chained themselves to Liverpool Town Hall to highlight their point, and one protester told JMU Journalism. "Despite everything the suffragettes did, there is still a massive fight to go. You can't tackle patriarchy without tackling capitalism and vice versa."
Additional reporting by Harriet Midgley & Sarah Raynard, JMU Journalism TV