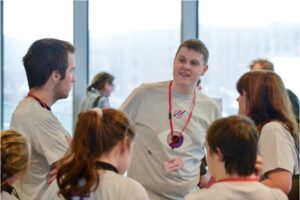 Disability arts are set to be celebrated next month with the return of the biannual DaDaFest in Liverpool.
A busy schedule of events has been announced as the innovative festival returns to Merseyside with the aim of promoting high quality disability and deaf art forms from a unique cultural perspective, running from November 17th until December 3rd.
Steph Niciu, communications intern for the festival, said: "DaDaFest is so important as it showcases disability art, both nationally and internationally. This year we have got a jam-packed programme with everything from music, comedy and dance.
"You should come along to see thought-provoking, challenging and empowering work."
This year marks the 13th Deaf and Disabled Arts festival since its inception. Organisers are planning on introducing live streaming of eight events, produced with the help of students from Liverpool John Moores University, on the DaDaFest website. This will include lectures in the Museum of Liverpool as well as a cabaret and open mic night held at the Philharmonic Music Room.
YouTube: DaDaFest
Each year, the festival follows a theme to explore disability-based issues. The works that are being featured in this year's festival will focus on how disability, despite being a universal issue, forces many to be marginalised because of it. It is hoped that the event will challenge public perceptions of disability, ignite debate and celebrate disability culture.
Steph explained: "Our theme is Skin Deep so we hope that everything in our programme will get under people's skin and make them think about the ways in which disability affects us all, and how it can hold us back or down."