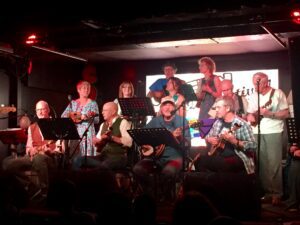 The world-famous Cavern Club hosted its first ever Ukulele Festival that was labelled "too successful" as hundreds participated and turned up to raise money for kids' charities.
Launched as part of the celebrations for the club's 60th anniversary, the organisers aim to bring new music every year to the Cavern. The festival was in aid of BBC Children in Need and Radio City's Cash 4 Kids.
Shawna Curtis, who put forward the idea of the festival, told JMU Journalism: "You've got to keep things fresh, don't you? As people get older or The Beatles create new fans or just music in general changes, you've got to adapt and if you don't, you get left behind.
"We put ads out there and a lot of people who play ukulele responded saying they would love to play at the Cavern and that's how it all came about," she said.
Around 130 people from 16 bands took part in the day-long festival at Liverpool's renowned music venue.
Although the advance general admission was sold-out just a day before the event, the club still saw large groups in the queue to buy tickets on the door until late in the day.
The event started at noon until 9.30 pm, kicked off and finished by D'ukes of Hazzard, a Liverpool-based ukulele band known for playing covers for charities.
The line-up included Ormskirk Ukulele band, Liverpool Ukulele Orchestra, Wirral Ukulele Orchestra, Splintered Ukes, and many more.
YouTube: JMU Journalism
To attract more music fans, The Cavern arranged prizes to raffle off, including a Hofner Guitar violin bass, three Cavern ukuleles, one night bed and breakfast at Hard Day's Night Hotel, a family ticket to The Beatles Story, and Cavern goodie bags full of memorabilia.
American banjo player, Jesse Wheeler, told JMU Journalism: "I'm not going to lie, but a lot more people showed up than I expected. Who knew ukuleles were the staple point of our generation? OK, maybe not that far. It was still very impressive though."
Due to the positive outcome, The Cavern Ukulele Festival has been planned to be turned into a biannual event.
"We might do this again in October because it's been really successful, or even too successful, which is a good problem to have," Shawna told JMU Journalism.