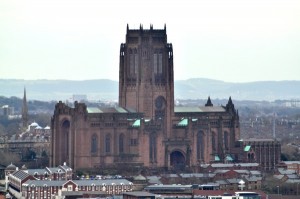 Liverpool's two cathedrals have teamed up to launch a new food bank called Hope+ to help tackle local poverty.
The food bank is named after the street that connects both the Anglican Cathedral and the Metropolitan Cathedral in the city centre.
They are working together with the Anglican St Luke in the City Team – which includes St Luke's, St Bride's, St. Dunstan's, St Michael's and St Stephen with St Catherine's – and St Vincent De Paul RC Church to help run the food bank.
It was set up after reports of increasing levels of poverty in the wake of local government and public sector cuts. Essential food supplies will be provided to those referred by social services, GPs and charities.
Dean of Liverpool Pete Wilcox said: "The Church Urban Fund recently issued a league table of the most deprived parishes in the Church of England – and the top two were in Toxteth. What we as a cathedral cannot do is ignore those levels of deprivation on our doorstep.
"Current levels of deprivation are startling, and are likely to get worse before they get better. As a cathedral we have both a duty to serve Liverpool in this way, and the privilege of doing so."
The Hope+ food bank has also been provided with a £47,000 set-up grant from Mayor Joe Anderson's mayoral fund. There are plans to open a debt advice centre, providing cooking lessons, help with budgeting and also offering computer facilities to help people in their job searches.
The day-to-day running of the food bank will be carried out entirely by volunteers.
Mayor of Liverpool Joe Anderson said: "People are struggling to cope with rising bills, cuts to benefits and the effects of the recession. Food banks are playing a vital role in helping some of the people in our city who are most desperately in need."
Donations of non-perishable food can be made to collection boxes situated in the Cathedral's South Nave Aisle.
The launch of the Hope+ food bank will take place on Tuesday 19th March, 11.30am at the Anglican Cathedral.