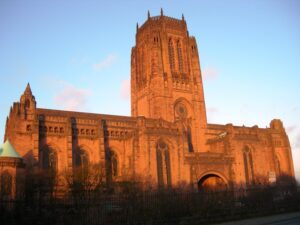 Liverpool Anglican Cathedral's head guide has published a new book, Cathedral Chronicles, describing events throughout the history of the building.
Roy Redman's book contains facts, figures, events and anecdotes from 1878 to 1978 and also includes never seen before documents and photographs.
Mr Redman said: "There are a number of excellent histories of the Cathedral but I felt there was a niche for a book that placed in chronological order events, major and minor, that occurred over the period.
"I also wanted to include the names of the men and women who have left their footprint on the Cathedral's history. Whether they be Royalty, Archbishops, Bishops, Deans or Stonemasons, Labourers, Embroiderers, the lady who cleaned the Dean's office and the lady who made the tea after morning service."
Redman, who has been the Cathedral's head guide since 2009, took photographs from the archives which had not been seen previously, to show people who worked either on the Cathedral or in the Cathedral the history of the iconic building.
Describing the period of time that captivated him most during his research, he said: "The historical period which fascinates me most is the early period of the building of the Cathedral, when a number of influential people of Liverpool were inspired by Bishop Chavasse to give their time and effort, and finance of course, into the project."
The main source for the book was the Cathedral Committee minutes. From these, the author extended his research to published cathedral histories, family histories, works on the history of Liverpool, documents held in the cathedral archives and Cathedral Company anecdotes.
Kevin Stott, Liverpool Cathedral's retail manager, said: "The book has arrived from the printers and looks splendid. All our colleagues at the cathedral join me in congratulating Roy, on what is a superb piece of work that we can all enjoy."
The book can be purchased in the Cathedral shop and online.