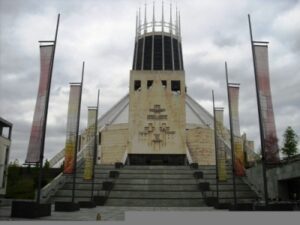 Liverpool's Metropolitan Cathedral has been named one of the top ten world's ugliest buildings by global news giants CNN in an online travel feature.
Picked at number seven in the article on the network's website, a photograph of the cathedral carries the caption: "What you might get if Optimus Prime [Transformers character] was your architect."
The CNN article adds: "Far from conjuring images of heavenly repose, the church is more akin to a giant concrete tent, hence its local nickname "Paddy's Wigwam" (Paddy being pejorative for Catholics of Irish descent).
"The [Roman Catholic] Cathedral project was ill-starred from the off. Designs by Sir Edwin Lutyens and Adrian Gilbert Scott were rejected for being, in the case of the former, too expensive, and in the case of the latter, not good enough. The task eventually fell to Sir Frederick Gibberd and it is his finished product that stands to this day."
Other buildings on the list in the feature, which states: "Some buildings make you go 'ooh'. This lot make you go 'wha[t]…?" include the Ho Chi Minh Mausoleum in Hanoi, Vietnam, the Petrobas Headquarters in Rio De Janeiro and The Portland Building in America.
The Metropolitan Cathedral of Christ the King in Hope Street is the mother church of the Roman Catholic Diocese of Liverpool and the seat of the Archbishop of Liverpool, The Most Reverend Patrick Kelly.
The first foundation stone was laid in 1933 as part of architect Sir Edwin Lutyens' ambitious plans to build the world's second largest church.
The outbreak of World War II and a shortage of finance meant only the Crypt was completed by 1958. However, in 1960, a competition was launched to design a new cathedral and Frederick Gibberd's design was chosen.
Work began on the site in1962 and was completed in 1967. Notable events in the cathedral's short history include the visit of the Queen in her Silver Jubile year of 1977, and Pope John Paul II in 1982.