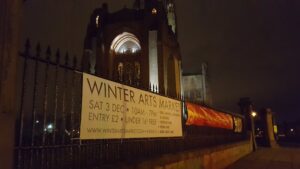 Liverpool's Anglican Cathedral held Merseyside's biggest arts and crafts market this weekend.
The 2016 Open Culture winter arts market welcomed almost 200 local arts, crafts, fashion and food stalls to the historic cathedral for the first time in the market's eight-year history. It had previously been housed in St George's Hall.
This year's market coincided with Small Business Saturday, a nationwide scheme which encourages people to forgo shopping at big retail shops and instead support small independent businesses.
The markets were split into different parts, with the main markets held upstairs and the vintage fair and food fairs downstairs in the cathedral's concert rooms.
Organiser at Open Culture Rachel Jones told JMU Journalism: "We're really pleased it's been so successful. It has been an amazing experience in the new venue, and seeing how everyone is reacting to the space and to just see everybody out supporting artists.
"I think festivals like this are really important because it is an opportunity for local crafters to sell their work to the public without having to sell it online or go through a third party or something like that.
YouTube: JMU Journalism
"It gives people the opportunity for people to directly engage with people who buy their work and for the public to ask questions about their work and understand what has gone in to it."
The summer and winter markets held by Open Culture have continued to grow, with artist and customer participation increasing every year.
Rachel Jones said: "The event is definitely getting busier and busier. Over the eight years, the markets itself have become bigger and the audience has expanded with it as well."
Karen Lawrence, who ran the Spikey Mouse Photography stall, told JMU Journalism: "We've done the winter market a couple of other times and it's been really successful. It's very important for artists and creatives in the area.
"It gets people noticed and it helps local artisans and markets to get their work out there and their public to see their work rather than going to regular high street stalls.
"People get to see what's really out there. Liverpool is definitely getting better and better for artists. It's going leaps and bounds and that's really good."