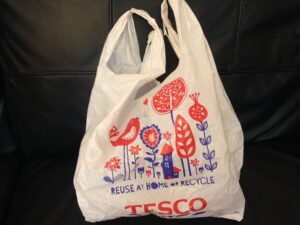 Large stores and supermarkets locally and across England have started charging 5p for every plastic carrier bag given out, beginning this week.
England is the last country in the UK to introduce this fee, which has been brought in to urge people to re-use their carrier bags in order to protect the environment. Campaigners say that bags impair the streets, spoil the countryside and damage wildlife, seas and coastlines.
The Government says it hopes to see an 80% reduction in plastic bag use in supermarkets, and a 50% decrease in high street shops.
While the 5p cost will inevitably upset some shoppers, others in Liverpool have reacted positively to the new fee.
Jessica Totten, Team Leader at Tesco Express, Mount Pleasant, Liverpool told JMU Journalism: "It's been alright so far, there have been no complaints or people kicking off yet.
"Everyone has been really cooperative and most people have been buying them. I personally think it's a really good thing and it should have started sooner."
The number of bags handed out in supermarkets in England rose to 7.4bn in 2014, this being 200 million more than the previous year.
Keep Britain Tidy is a leading environmental charity which encourages people to be litter-free, to waste less and to live more. Allison Ogden-Newton, Chief Executive of the charity, said: "Obviously there is a lot more that needs to be done to change the behaviour of those who think it is acceptable to throw their rubbish on the floor but Monday marks a significant first step on the road to a litter-free country."
So far, other countries have seen a huge drop in the amount of plastic bags used. The charge was introduced in Wales in 2011 and saw a 71% decrease in the first year alone. Scotland and Northern Ireland introduced the charge in 2014 and 2013 and have also seen a significant drop in the use of plastic bags.
Naduni Jayasinghe, a 19-year-old living in Liverpool but originally from South Wales, said: "Being from Wales I'm already used to the charge on plastic bags. It's a good thing because it makes you more aware of what you're already using and is a lot better for the environment."
The charge only applies to shops or chains with 250 or more full-time employees.