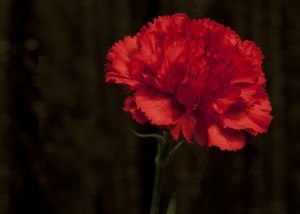 As the 25th anniversary of the Hillsborough disaster approaches, a new movement is underway to get people to mark the occasion by wearing a red carnation for the 96 Liverpool fans who died.
David Hughes, a presenter at Maghull Community Radio Station, is launching the 'Wear a Red Carnation Day' campaign to commemorate the victims of Hillsborough.
The campaign, which he hopes will be taken up by many on the 15th April, is backed by the Hillsborough Family's Support Group who Mr Hughes said had called it a wonderful idea.
The aim is to help people remember those affected by the tragedy, which happened  in 1989 at the Hillsborough Stadium in Sheffield, during the FA Cup semi-final match between Liverpool and Nottingham Forest.
David told JMU Journalism: "I feel I'm doing something to show my respect for those fans who died and love for those who who are still awaiting justice, and I'm hoping that folk who feel the same as me, will wear a simple red carnation buttonhole on April 15th.
"If a lot of ordinary people, like me, join in my campaign, you can imagine the joy it will bring to the families of the bereaved."
Sefton MP Bill Esterson, who is on the Hillsborough Parliamentary Group, will be taking part in the campaign, and letters have been sent to the Prime Minister and his wife for their support.
Tasha Williams, a fellow presenter who is supporting the campaign, told JMU Journalism: "I think it's a great idea and it's the least we can do as a studio. The majority of the presenters at the studio weren't alive when the disaster happened, so this lets us show that the younger generations still support and care for those affected."