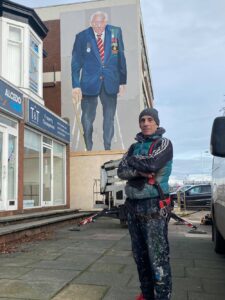 Fundraising hero Captain Sir Tom Moore has been immortalised by a three-story portrait in Southport town centre.
The 24ft high art installation was created by local artist and ex-boxer Rob Newbiggin and placed on the side of the Anthony James estate agent building. The mural has gained lots of attention over social media after the 100-year-old war veteran's sad passing earlier this month.
Rob told JMU Journalism what it meant to him to be able to keep the memory of Captain Sir Tom alive through his art. He said: "Many times I've done portraits of people who have passed, just out of goodness, but I thought that I'd love to do something bigger one day.
"Out of the blue Mark Cunningham from Anthony James estate agents contacted me and said he'd like to commission me to do an NHS mural on one side of the building, and Captain Tom on the other.
"It's amazing to have the title of the biggest mural in the world of Tom Moore. I've got official paintings up and down the country of famous people, but the media attention from this one has been amazing.
"Currently it's the largest painting, but it does feel like this is the ultimate one and nothing can come after this now!"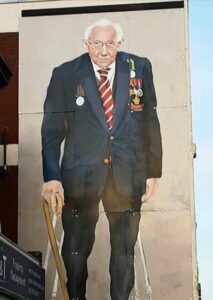 Mr Newbiggin was commissioned by Mark Cunningham, Lyn Cunningham, and Jacqui Holt, of Anthony James estate agents to create the paintings – poignantly named "Hope" and "Thank you".
Mark explained the thought-process behind the commission: "It's attributed to the figure that he was. We wanted people to look up to Captain Tom, both physically and metaphorically.
"He did it [fundraising] through humble intentions, not for egotistical credit. He was purely a humble man who spent part of his life in the armed forces."
The mural has been very well recieved, with both Rob and Mark inundated with positive responses from residents of Southport and beyond.
Rob described the artwork as "gleaming with positivity" and says it has been a morale-boost to Southport, where there have been concerns over the identification of the new South African strain of COVID-19 in the area.
There are big plans for the future of the painting, as Mark explained it will eventually be auctioned off to raise money for The Captain Tom Foundation, and will give way to a yearly competition in his memory involving local schools and colleges, named "Wall of Hope".
Listen to the full interviews with Rob Newbiggin and Mark Cunningham>>>