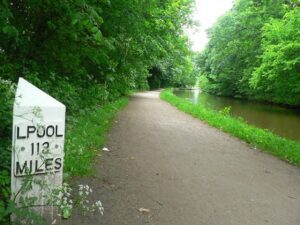 The Leeds and Liverpool Canal's 200th anniversary is set to be celebrated in a major fundraising campaign, which aims to recover many of the missing mileposts along its historic route.
The Canal and River Trust charity has organised the EveryMileCounts appeal to coincide with the canal's bicentenary.
The charity hopes that the new fundraising appeal will help to restore or replace many of the missing mileposts along the waterway's 127-mile (204 km) route.
Although the canal itself is 200 years old, the original cast iron mile markers date back to the 1890s.
Bill Froggatt, Heritage Advisor for the Canal and River Trust, told JMU Journalism: "The charity hopes the appeal will encourage dozens of local groups and individuals to adopt their local stretch of canal and its mile marker.
"We are looking for sponsors to donate up to £200 to restore each milepost and volunteer parties to help restore damaged or corroded mileposts."
The original signs were installed in 1893, as a result of the Railway and Canal Rates, Tolls and Charges Order, which was introduced to regulate canal freight tolls.
The purpose of the mileposts was not simply to indicate the distance to the next town but rather to enable the accurate calculation of tolls.
A recent survey by the charity indicated that 23 of the mileposts along the trans-Pennine canal are currently missing or severely damaged and that all of the mile markers would benefit from being painted.
Bill explained that the campaign has experienced a successful start. He said: "The project is being backed by the Heritage Lottery Fund, whose grant of £36,000 has supported the appointment of a new project officer, the fabrication of 40 new mile posts and a programme of activities, heritage events and art workshops for local residents."
The Leeds and Liverpool Canal is the longest in Britain that was built as a single waterway and was recently extended further into the Albert Dock following the £22m creation of the Liverpool Canal link.