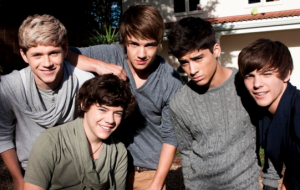 Thousands of One Direction fans camped outside the Echo Arena in Liverpool for days to ensure they would be amongst the first to get tickets for the band's debut arena tour.
The former X Factor contestants, who won Best Single for 'What Makes you Beautiful' at the 2012 Brit Awards, announced in their acceptance speech that they would be taking to the road in February and March next year… and their Liverpool followers were determined not to miss out.
Fans, dubbed 'Directioners', had camped outside the arena by the Mersey for up to three days before the tickets were released to make sure they got their hands on them before they sold out.
Jenny Moore of Walton told JMU Journalism: "We've been here since half four in the afternoon on Thursday because we want tickets to see them. Our friends are right at the front so they can definitely get tickets."
Another One Direction fan, Sophie Ellen Evans of West Derby said: "We camped out last year so we could get tickets for their last tour. We want to see them because they're so amazing."
Lois Lamb of Walton added: "I'm not coming out of my house on the day of the concert if we don't get tickets… I'll have a breakdown!"
One Direction were originally set to embark on an 11-date tour, which will arrive at the Echo Arena on March 17th, 2013. But, after tickets sold out within minutes of being released, promoters added further shows to the tour, which will now see the band play 34 dates.
Currently the five lads, Niall Horan, Zayn Malik, Liam Payne, Harry Styles and Louis Tomlinson are trying to make it big in America, having entering the US iTunes Top 10, and they are about to join American boy band Big Time Rush on their tour of the country.
Since finishing in third place in the 2010 series of X Factor, One Direction have become one of the UK's most exciting music acts, after gaining more than 100 million views on YouTube, two major hit singles and a platinum-selling album.
Last year they caused a screaming frenzy, described as close to 'Beatlemania', as fans gathered at WH Smith in Liverpool One, where the band were signing of their number one-selling book.