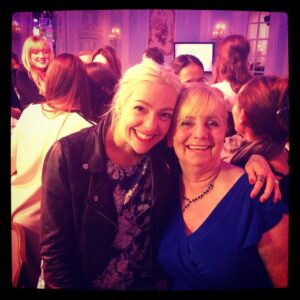 Hillsborough campaigner Margaret Aspinall won Campaigning Mum of the Year at a Tesco national awards ceremony last night.
Margaret, the chair of the Hillsborough Family Support Group, received the award due to her "huge strides and tireless campaigning work since the 1989 tragedy".
Mrs Aspinall, whose 18-year-old son James died in the Hillsborough disaster, accepted the award from BBC television presenter Cherry Healey on behalf of all the families fighting for justice.
Cherry Healey took to Twitter to congratulate Margaret, tweeting: "Honoured to present Margaret Aspinall with an award for her relentless campaigning. After losing her son at the Hillsborough disaster, Margaret campaigned for 22 years, that's a staggering persistence for truth – a lesson to not be intimidated by authority."
Margaret, who was at the awards as a guest of honour, said: "We can't get our loved ones back, but we can get what we achieved – which is the truth. I think it's a good legacy to leave behind because this can never be allowed to happen again to anyone."
Spice Girl Mel C won Celebrity Mum of the Year at the ceremony at the Savoy Hotel in London.
The Widnes singer, who has a four-year-old daughter Scarlet, said: "Going to work sometimes is like a little bit of a break. Nothing is as hard as entertaining children all day long and taking care of them."
Other stars that attended the ceremony were Liverpool's Jennifer Ellison and pregnant model Danielle Lloyd.
The ceremony will be shown on Channel 5 on Mother's Day, this Sunday.