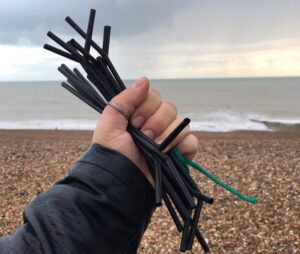 A Wirral man who has devoted his career to helping and protecting sealife is calling on businesses to help in the fight to keep local waterways safe and clean.
While there is growing public awareness that the use of plastics is having a major detrimental impact with dangerous materials making their way out to sea, marine mammal medic, Chris Cureton, is a man on a mission.
Last month, the JD Wetherspoon pub chain too the decision to remove plastic straws from its 900 UK bars, and Chris is hoping to encourage other firms to do the same.
Mr Cureton told JMU Journalism: "I'm very focused on marine plastic pollution and its impact on marine life both locally and globally.
"After seeing some campaigns around the world attempting to reduce the use of single use plastic straws, I decided to kick off the campaign locally focusing on New Brighton and Wallasey."
He only started his campaign at the beginning of September, but 13 local Wallasey and New Brighton businesses have already agreed to completely remove plastic straws from their venues.
Other outlets have agreed to not automatically put straws in glasses, but will still have them on offer.
'The Last Plastic Straw' is a worldwide campaign striving to educate the public about the problems associated with of single use plastic, its effects on health, the environment, and the oceans.
Their aim to eliminate use of single use plastic is backed by a wide range of organisations and celebrities including the sailor, Dame Ellen MacArthur, Marks and Spencer and fashion designer, Vivienne Westwood, to name a few.
Recent research by The Plastic Pollution Coalition, found that the UK and USA throw away 550 million plastic straws a day.
On average, a plastic straw is used for 20 minutes before it ends up in the bin. These straws take over 200 years to break down, and are one of the top 10 items found in beach clean ups.
Mr Cureton said: "My wife and I are marine mammal medics and see the effects first hand and it's not pretty. We spend a lot of our time responding to marine mammal emergencies in the North West and North Wales.
"We also spend our free time with the New Brighteners, our community beach clean-up, and see the effects of excessive plastic use first hand."
Chris hopes to continue to reduce the use of plastic straws throughout the rest of Merseyside by producing a window sticker to acknowledge businesses who have made the change, along with doing a round of photo shoots featuring a giant bendy straw.
YouTube: Costa Rican Sea Turtles