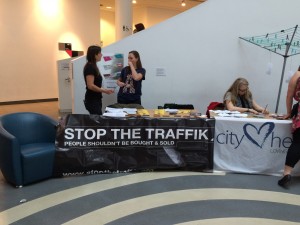 A campaign to tackle human trafficking urged people to sign a pledge in support of the Modern Slavery Bill during a special event at the Museum of Liverpool at the weekend.
To mark anti-slavery day, the 'Stop the Traffik' and 'City Hearts' charities teamed up with Liverpool City Council to invite local people to illustrate what freedom means to them on their own 'key' which will be passed onto MPs in Parliament in support of the Bill.
Councillor Emily Spurrell, Mayoral Lead for Community Safety, said: "Human trafficking is still a big issue in the UK and in Liverpool as well, and that means modern day slavery so it's not just sex trafficking but forced labour and domestic servitude."
She added: "We put out a pledge and we're asking businesses and housing associations and various organisations to sign up to get training for front line staff so they can actually spot the signs which means we can tackle it when its actually happening."
The pledge aims to take action to make Liverpool a trafficking-free city and raise awareness within the businesses and organisations that sign up.
Rebekah Turner, co-ordinator from Stop the Traffik – a charity led by volunteers – hopes to spread the message further.
Video report by Niamh Conway, JMU Journalism TV
She told JMU Journalism: "Our biggest focus at the minute is spending a lot of our time going out to large organisations such as the NHS and connecting with universities in the city.
"I would like us to branch out more into schools and colleges and build a schools team because raising awareness to young people from primary school age up to sixth form is vitally important."
Volunteer Samantha Moss, 45, from Wavertree said: "The event highlighted the tireless work that organisations like Stop the Traffik and City Hearts undertake on daily  basis to raise awareness of modern day slavery and the difference they are making to combat it, what a fantastic day."