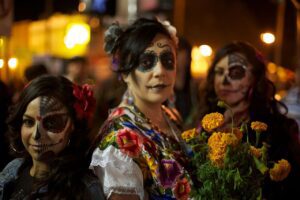 Zombie skeletons and volunteers are expected to haunt Liverpool in an attempt to break a Guinness World Record next week.
Monkey Mind Productions and iVAMOS! have joined forces to organise Liverpool's very own 'Day of the Dead', which will be held in the Great Hall of St George's Hall on Saturday October 31st.
The Day of the Dead is a public holiday celebrated throughout Mexico and embraced in other countries such as Brazil and Spain. The current record for the amount of participants is held by Mexico, with 509 people.
Guests at the festival are encouraged to dress up as Catrina, who is known as 'the keeper of the bones' – or La Calavera Catrina – and adopt traditional manners. Makeup artists will be on site at St George's Hall from 4pm, which is the recommended time for guests to arrive, to help with the zombie look.
Emma Foxall, Director at Monkey Minds productions, first approached iVAMOS! in 2014 with her idea for the Liverpool celebration and her love of all things Mexican.
She told JMU Journalism: "Liverpool is a completely unique city. It stands apart and has this outsider attitude but it's so open to new cultures and people. There is a real synergy between the character of Latin people and the people of Liverpool.
"They have a shared political solidarity. They really care about people, their rights and their quality of life. It's the same in Latin culture."
Appearing at St George's Hall will be a live Mexican wrestling event, Mexico's answer to Elvis: El Vez, and a shrine made by folk artist Francisco Monterossa. World renowned Latin punk outfit, Los Straitjackets, and a mariachi troupe, will also appear.
Emma said: "For Monkey Mind productions and iVAMOS! this is all about celebrating life and the lives for all those we've loved and lost in the pool of life."
Advance tickets cost £14 and the record attempt will take place at around 5.45pm. At around 6pm there will be a mass piñata bash.