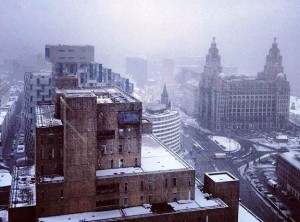 A petition has been set up to unlock unused buildings in Liverpool for the homeless to take shelter over the winter period.
A growing number of homeless people in the city face freezing conditions sleeping alone on the streets. Liverpool City Council owns numerous locked buildings and as the winter period is upon us, petition organisers say that getting these people off the streets could save someone's life.
Emma Eaton, Assistant Director of Big Issue North, told JMU Journalism: "It's great to see so much public concern for homeless people in crisis. It is important that towns and cities give careful consideration to the best way to alleviate homelessness, but what we really need are long-term strategies that addresses the causes, as well as the impact, of homelessness."
Beth Meadows , Co-President of the homeless society at the University of Liverpool, told JMU Journalism: "Winter is the most crucial time for people to seek shelter, therefore opening unoccupied buildings is a good use of empty space.
"I equally believe these spaces need to be regulated to ensure they are safe for the occupants. Simply giving a rough sleeper a roof over their head is not a solution to the problem of homelessness."
She added: "Nevertheless, it's a great starting point and the idea behind it, of helping the homeless become more dignified and humanised by having a place to sleep over winter, is something I believe in. It will certainly make life a lot easier for many over the brutal winter months."
The petition so far currently has more than 6,000 signatures.