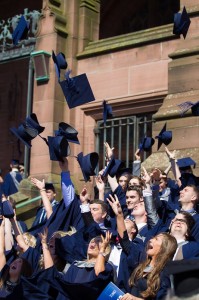 Graduates must be retained in Liverpool to ensure growth in the city's economy as too many leave after completing their studies, a new report says.
Liverpool needs investment from the Government to prevent a "brain drain" of top home-grown students from seeking a career in London, according to The Centre for Cities.
It says that the capital is surpassing the rest of country in terms of both keeping and attracting workers post-university, and its report shows that only 0.5% of Russell Group graduates moved to Liverpool for a job position.
This compares to the 3% who moved to Manchester and 38% of whom relocated to London alone.
Similarly, London manages to retain 77% of its graduates, whereas Liverpool and Knowsley combined keeps just 31% – ranking Liverpool 12th overall in the UK between 2014-2015.
Head of Communications for The Centre for Cities, Brian Semple, told JMU Journalism: "The big factor that our report shows is that graduates are more likely to either move to a place or stay in an area if they know they have access to good jobs and career progression.
"Liverpool, for example, maybe has less of the high-skilled jobs that are going to attract graduates than other cities across the country. London in particular has so many more opportunities for graduates.
"What we're saying in the report is that if you want to attract or keep more graduates, there are two big important things you have to focus on: growing your city's economy, creating more jobs and opportunities for graduates. Secondly, you need to focus on the people living in your city."
"Local government in Liverpool needs to think about improving the skill levels of people in their city, as that would be as important as attracting graduates from elsewhere."
YouTube: LJMU