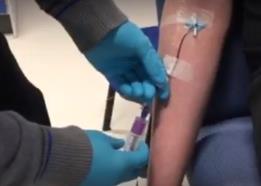 People in Liverpool have been urged to donate blood due to low stocks in certain types.
The NHS released an appeal this week calling for donors with blood types O negative (O-) or O positive (O+) to urgently book appointments.
Lee Wright, manager of Liverpool Donor Centre in Dale Street, told JMU Journalism: "Without doubt, I would urge people to give blood and we always want new donors.
"We are particularly after the O blood groups; O negative (O-) is a universal donor and O positive (O+) are both in high demand.
"Blood type B negative (B-) and subtype Ro are both additionally running low. Ro is predominately found in people from black, Asian and minority ethnic groups. We encourage people with these blood types, which are in high demand, to make an appointment."
The NHS aims to "retain six days of stocks (per blood type) at any time". However, the stock levels this week show low levels of seven out of the eight blood types.
YouTube: NHS Give Blood
There are two days' worth of stock of blood group AB negative (AB-) and both O negative (O-) and O positive (O+) fall short at half of the requirement. The NHS has expressed concerns that supplies will keep falling without crucial donations.
Over 6,000 donations are needed in hospitals across England. However, the most recent research by NHS Blood and Transplant suggests under 3% of eligible donors give blood.
Mike Banner, a Merseyside Special Sergeant, gave his seventh blood donation this week. He said: "Thirty minutes out of my day every 12 weeks is nothing knowing someone could survive illness or trauma through my help.
"Being in the city, it makes a nice break from the hustle and bustle to just sit back and do something good for the benefit of others. It's quick, relatively painless and just gives you a sense of happiness."
To book an appointment you can call the Liverpool Blood Donor Centre or book an appointment online via the NHS.
Twitter: Nina Roberts
i just gave blood for the first time and it didn't hurt! The team at Liverpool centre were all lovely …. as were the biscuits! If my blood is good, I'll be back @GiveBloodNHS #GiveBlood ❤️

— Nina Roberts (@missninaroberts) April 20, 2018