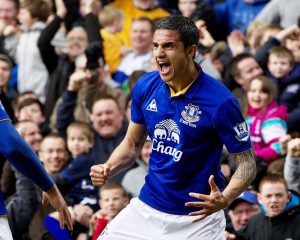 Former Everton midfielder Tim Cahill has expressed a desire to return to the Merseyside team in January but only on a short-term basis.
The player, who left Goodison Park this summer to play for the New York Red Bulls, has seen his season in the States come to an end, after his team were knocked out of the Major League play-offs by DC United.
The 32-year-old Australian is keen to carry on playing and highlighted that he would love to return to the club where he spent eight memorable years, saying: "There is no shadow of a doubt, I'd love to come back."
He has always remained a fan of both Everton and the Premier League, using his Twitter account to show support. In recent days he has told his followers: "Just getting up to watch the Blues, hope they can stay in the top four."
It is thought that the signing would be a huge boost to Everton, who are trying to continue their great start to the campaign. The Australia international, who scored over 50 goals for the Toffees, would offer the stability which was missing this weekend when the Blues surrendered a one-goal lead in the 2-1 loss to Reading.
With so many matches and a large number of the Goodison players representing their countries on international duty, fans believe that Cahill would offer invaluable experience and bolster the midfield, which has also lost captain Phil Neville to a serious knee injury.
Cahill, who saw some of his greatest moments whilst in the blue of Everton, including getting them to the Champions League and UEFA Cup before being the first Everton player for 18 years to be nominated for the prestigious Ballon D'Or individual award when he was selected in October 2006.