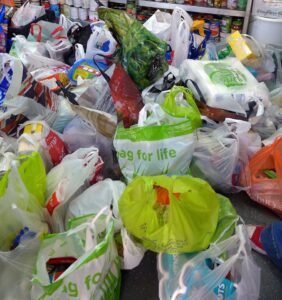 Merseyside cafe's have joined forces to provide free meals over the school half term to ensure children do not go hungry.
As the Food Foundation reported 32% of households with children have experienced a drop in income as a result of Covid-19, some families across the region have been hit particularly hard by the pandemic.
The government's decision to discontinue free school meals over half term meant some children might not be fed properly. In response, restaurants, cafes and supermarkets have rallied to prepare and distribute thousands of free meals to children in need across the country.
Independent cafe's and other businesses in and around Liverpool have been no exception, showing unity by providing supplies to meet demand.
Andrew, the owner of Aubergine café in West Kirby, explained how businesses have come together in what for many is a time of need:
"We are providing a sandwich, a cup of freshly made hot soup, a drink and a piece of fruit. Typhoo Tea contacted us to provide tea bags, Homebaked in Anfield provided fresh bread and the Bespoke Coffee Company kindly provided hot chocolates which we hope will arrive soon."
The meals will be available across the October half term, from Monday the 26th through to Friday the 30th. Most places will be serving the food around lunchtime, between the hours of 11am and 2pm but it is advised to contact your local participating business before arriving.
Due to the overwhelming amount of donations and support from the community some cafes are considering doing the same over the Christmas half term.
Lesley Ellis, owner of Remember When Tea Room in New Brighton, said: "The community have done amazing in providing us with provisions. We started up a new PayPal account for monetary donations and we are now looking to set up that up for Christmas because we've had a lot of donations already and we are covered with provisions for this half term."
Listen to Lesley Ellis below>>>
According to the Children's Commissioner in April 2020, 88,000 children were in families where jobs had been lost, 1.2 million were in families where someone was furloughed and two million were in families where a parent's hours had been cut.
Phil Starling, co-owner of The Watering Can in South Liverpool, explained: "This is one of the highest levels child poverty has been at in modern times, especially with the amount of money the government spent on a failed track and trace system.
"It is great to see businesses and the council working together to meet the shortfall, but it is beside the point. The government should not have decided against providing free school meals at such short notice when there have already been budget cuts for local councils. This made us want to jump in and give a bit back to the community."
Listen to Phil Starling below>>>
Mayor of Liverpool Joe Anderson has announced that he will step in and ensure that children are fed, with the City Council announcing plans to provide meals for approximately 19,800 school children over half term. He said: "We will never lose sight of how tough it is for people out there."
The Liverpool Echo has published a twitter thread of participating businesses should you wish to help out or require their services, which can be found here:
A list of businesses in the Liverpool City Region offering free school meals to children.

The government wouldn't, but these amazing people will.

Please add any we have missed in the comments.

A THREAD

— Liverpool Echo (@LivEchonews) October 23, 2020
* Additional reporting by Henry Brown