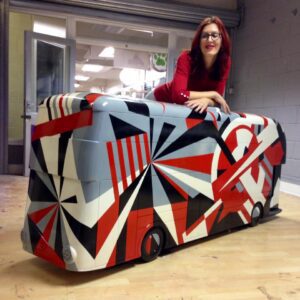 Artists across Merseyside are set to raise thousands of pounds for a number of different charities in an upcoming auction.
The artists were asked to create a design for the London Year of the Bus sculpture trail that will be auctioned off, with proceeds from the sales going to charities such as Kids Company and Transaid, which helps people in developing countries access transport.
Sophie Green, an artist who works with clients such as Alder Hey Children's Hospital, Liverpool Women's Hospital and Halewood International, has three of her pieces in the display, named 'Push Once, 'Crystal' and Dazzler'.
She told JMU Journalism: "I've worked on a few public art projects like this and they work out nicely because the money gets invested into charities and the artists get paid, so everybody wins. It's great to get the chance to earn money for charities.
"Art is something I've always enjoyed. As a kid I always liked my own company so drawing was something I could get lost in. I was always at home creating things out of little things around the house like toilets rolls, margarine tubs and magazines as a child."
After being named as 'one to watch' as part of the Independent on Sunday's 2013 Pink List, Sophie admitted that there is a lot of competition for the artist who can raise the most money as she goes up against other local artists like Stephen McKay and his partner, Janet Fishwick, along with Neil and Fiona Osborne.
Sophie added: "I work by myself a lot work on the sculptures but there is still a sense of community because we are all so involved in the same project. We always keep in touch and let each other know how our work is coming along."