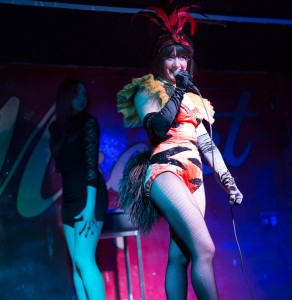 A burlesque and female empowerment variety show has been held to showcase the talent of women in Liverpool and raise money for two Merseyside charities.
The 'Spare Rib' night at The Magnet included performances by female comedians, theatre shows and burlesque dancing in order to raise money for RASA [Rape and Sexual Abuse] charity and 'Let Toys be Toys!' group, which aims to combat gender stereotypes globally.
Rose Cairns, a 20-year-old Cyber Security student and burlesque performer, organised the entire event, which is one-of-a kind in Liverpool. She told JMU Journalism: "The Spare Rib came out of a desire to create a variety show that promotes and celebrates women performers of all styles in a world which is often dominated by men.
"RASA charity has always been very close to my heart because of the amazing work they do just out of a desire to help others and make the world a better place. Many people close to me have been helped personally by RASA and have come out of it happier and with the tools to help them cope with horrible things that have happened to them."
On the night the variety show raised £475 for Merseyside RASA and Let Toys Be Toys! as the fundraising continues.
A spokesperson from RASA, Lorraine Wood, said: "We work with men, women and children who have been affected by rape and sexual abuse at any point in their lives. There are four RASA bases across Merseyside including; Birkenhead in Wirral, Birkenhead, Liverpool and Sefton. We work to hard to make sure people's voices are heard."
However, organisers defended themselves against claims that some people would argue that women stripping would be inappropriate when trying to raise money for a charity which supports men and women who have been through sexual and often violent abuse.
Ms Cairns told JMU Journalism: "The burlesque community are the most feminist bunch of people I have ever met; it is one of the only places across the board which is run by women, performed by women, for women. Often people have this false assumption that expressing sexuality and nudity is something anti-feminist and objectifying, which I couldn't disagree with more."
Burlesque dancer and secretary, 31-year-old Bambi Lebam, said: "Sexual abuse is something that can be very easily blamed upon the victim. It is vital to have proper support from someone who understands the situation and what you're going through."