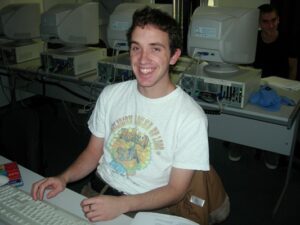 Class of 2007 legend Aaron explains how he was the technical brains behind the redesign and relaunch of the JMU Journalism website.
The Internet makes life at least 250% more awesome than it was during any other period in history. I think back to 1992 and wonder what we were all doing to pass the time without access to an almost unlimited collection of amusing cat pictures.
But let's remind ourselves why the web is so great: compulsive, useful content that keeps us hooked.
For anyone publishing online, creating content quickly and easily is a thing of beauty and finding the technology to do that can give you journalistic superpowers.
The new JMU Journalism site stands on the shoulders of giants. It runs on WordPress, the world's most popular and arguably best content management system. It's built by thousands of contributors worldwide and now powers a huge chunk of the Internet, owing to its constant innovation, extensibility and the fact that it's free.
It's a class act and if you have a job or hobby in online content or web development, you'll use it sooner or later.  Learning it now is great head start and helps you get to grips with principles common to the many other content management systems you'll almost certainly deal with in the future.
The big secret to winning at the Internet is the worst kept, yet least appreciated: make stuff that people want to absorb and engage with.  Your stuff must solve a problem whether people realise they have it or not.
While putting the site together, I was often distracted by the content created by JMU Journalism students: genuinely interesting and unique stories, featuring video bells and audio whistles, put online with minimum fuss. It helped me fill the five minutes (or more) I didn't know needed filling.
Creating a platform to let this happen is very exciting.  Learning and developing as a journalist can now be done in Technicolor – brought to life in a way that wasn't possible even just a few years ago when I studied at JMU.
I hope you enjoy your new website and find it narrows the gap between your study and your work life even further.  Keep making good stuff and I'll keep mucking in to make your stuff-making even easier.
Aaron graduated from JMU Journalism in 2007