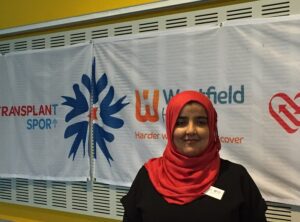 Liverpool is set to host the "greatest ever" British Transplant Games when the competition arrives in the city next summer.
The launch ceremony at the Echo Arena yesterday saw participating athletes from all over the country gather together to light the symbolic Games flame.
The 2016 competition will be held from July 28th to 31st in venues across the city. Organisers are aiming to exceed the targets set by this year's hosts NewcastleGateshead, which increased the number of names on the NHS Organ Donor Register by 10%.
Organised by the charity Transplant Sport, the Westfield Health British Transplant Games is one of the largest annual multi-sport events in the United Kingdom. It aims to be a celebration of life, to promote organ donation and to demonstrate the quality of life people enjoy after undergoing an organ transplant.
Former Liverpool John Moores University student, Barkh Sharee, is hoping to take part in the tennis competition next summer after undergoing a successful kidney transplant in 2014.
The 27-year-old told JMU Journalism: "I have been so lucky to have a transplant and unfortunately many people do die whilst waiting for them.
"For me, the Games represent strength, not just because I've got my physical strength back but because you get your emotional strength back too and I can contribute back to society again.
"There are people who have gone through the same experience as you, but sometimes what they have gone through is much worse, so it makes you appreciate life even more."
Andrew Knox, from Cheshire, will be competing in his 14th Games next year. The 44-year-old was believed to be the first person in Britain to have three kidney transplants from members of his close family. In an extremely rare case, Andrew received transplants from his mum, dad and sister.
He told JMU Journalism: "Liverpool offers the Games a great host city. There's so much diversity and people from so many different cultures here. So I think it's great for the people of Liverpool to be made aware of the issues."
At present 218 people in the Liverpool city region are in need of a transplant.
Knox explained how the Games have helped him: "For me, coming to the games wasn't just about sport, it is about the sense of community here too. The biggest thing I have gained here is friendship and confidence and being able to share experiences with people."