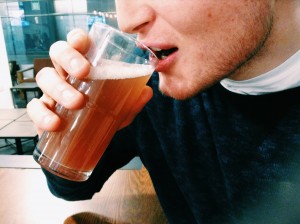 The Baltic Triangle has enjoyed a resurgence in recent years and plans to open a new brewery, tap house and charcuterie will be music to the ears of beer lovers all over the city.
Opening this month, Black Lodge on Kitchen Street will serve ales brewed exclusively on its premises. Liverpool Craft Beer, Camp and Furnace and The 23 Club will also be brewing at the new venue which sees a different vibe to the areas already iconic club nights such as city famous 'Circus', housed at Camp and Furnace.
Black Lodge Brewers told JMU Journalism: "We're excited to bring this new venture to the Baltic Triangle. There's nothing like it in Liverpool at the moment and with the redevelopment of the city centre there are loads of new bars opening and we think we're offering something unique. The Baltic Triangle is getting more and more popular, especially with neighbours like Camp and Furnace."
Liverpool is enjoying a new wave of independent ventures and Black Lodge is another to add to that list. Although nothing new, the concept itself differs from the usual pint after work. The venue promises to provide a selection of meats and cheeses that will compliment your choice of beer as recommended by it's staff.
Neighbouring the city's iconic Cains Brewery, the switch from an entirely industrial area to a nightlife hub, Black Lodge, along with other new bars, is breathing life into the once run down area of the city centre.