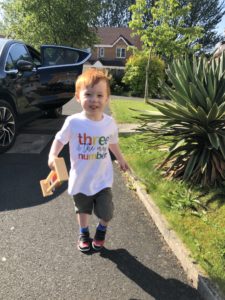 A three-year-old boy born with a rare cardiac condition has helped to create a new movement with the aim of assisting others in a similar situation.
Jake Cathcart was born with an illness that still, three years on, has not been officially diagnosed. Spending the first year of his life in Alder Hey Hospital, his heart function worsened and transferred to London's Great Ormond Street Hospital for a second opinion and heart transplant assessment.
There they decided to try a biventricular pacemaker to re-sync his heart. The surgery for it went well but there were further complications and later Jake urgently needed a hole in his heart closing. The surgery was carried out the day after his first birthday, but he is still going strong.
His mother, Claire Cathcart, told JMU Journalism: "Jake's progress was so amazing. We were discharged home a few weeks later. Arriving on a helicopter and departing by train was progress in itself.
"Since then Jake's heart function has improved. He's not fixed, but he's stable – with the help of his pacemaker and a lot of medication every day."
Jake will always be known as the zebra baby at Alder Hey hospital because the first onesie that he was able to wear was zebra print. Claire added: "When Jake was having surgery, we asked friends and family to wear stripes 'gozebraforJake' to raise money for Alder Hey."
The St Helens mum explained that she had stumbled across a post on Facebook from a surgeon at Alder Hey who volunteers for 'Healing Little Hearts', a charity that sends specialist medical teams to perform free heart surgery on babies and children in the developing parts of the world. She immediately wanted to help.
Claire, 38, contacted other parents at Alder Hey and formed a movement called 'Team 1c', involving a group of coronary heart disease relatives who are committed to fundraise for the charity. Jake provided the inspiration which is now helping to transform the wellbeing of others.
Mrs Cathcart said: "I remember thinking how lucky we were to have never had to worry about the cost of Jake's treatment. I committed to raising £6,000 to fund one camp and save 15 lives – all because of Jake."
So far, Team 1c has funded no fewer than 93 operations, with fundraising efforts continuing to help transform lives.
YouTube: Alder Hey Children's Hospital