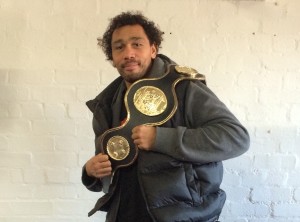 Boxer Courtney Fry is set to open up a business in Liverpool to help encourage underprivileged people to compete in sports.
The London-born fighter, who competed in the 2000 Summer Olympics in Sydney and is a European silver medallist, moved to Merseyside after the Games in Australia, during which time his Liverpool-born girlfriend become pregnant with his first child.
He told JMU Journalism: "The business is all about working within communities.  For many years now I have used my sporting background as a tool to build rapport. The business has strong beliefs in 'healthy body, healthy mind' and wants to encourage a healthy lifestyle to support ongoing success.
"Sports, engagement games and goal-setting are just a few ways I am able to spring board into helping others. I get a great deal from helping others' self-satisfaction."
The 39-year-old cruiserweight is still juggling his boxing career alongside his newly-found passion and admits it can be difficult, saying at times he has even considered quitting the ring in order to focus on his career within the community.
He said: "I once worked as a security officer in a community hall. There were lots of unruly young people causing trouble, smoking and drinking. I knew I could have worked against them and I often did when they stepped out of line, but then I decided I wanted to help them.
"When the sports hall was free, I would arrange for them to complete in different sports together and tried to encourage them to be more proactive. I found a job I loved."
Speaking to those who believe that boxing is teaching in aggression in youths, Courtney said: "It's a load of rubbish. As a young person I was mischievous and angry and boxing actually calmed me down.
"It has shown me great focus, determination, dedication and discipline. Fighting is the last thing on my mind as a boxer. What boxing does to young people is take out any need for aggression, it starves it so any anger is left at the gym."
Fry is still seeking funding for the project, which he hopes to build in the coming months.