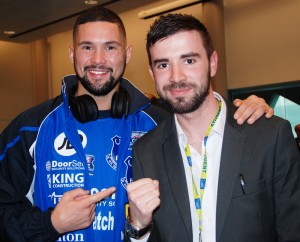 Liverpool fighter Tony Bellew pledged to knock Nathan Cleverly out when the pair in a WBO cruiserweight title eliminator at the Liverpool Echo Arena on Saturday night.
Bellew went face-to-face with Welshman Cleverly in front of the media today in a heated press conference ahead of the grudge rematch, and the Scouser spoke exclusively to JMU Journalism about how he plans to reverse the form book.
The first meeting between the pair, for the WBO light-heavyweight crown in 2011, ended in a points victory for Cleverly at the same venue, but Bellew is confident that won't be the case this time at cruiserweight.
Bellew told JMU Journalism: "Nothing's better than knocking someone spark out, besides making my kids happy – that's the only thing that's better.
"I'm going to knock him spark out, he hasn't brought his pillow so he's going to hit the floor very hard, absolutely crashing down.
"You can go on about his speed factor all you want, but do you know what you will actually be shocked about the most? Let's see who's the quickest on Saturday because I'm still not convinced he's quick at cruiserweight.
"But there's no point in talking, the proof is in the pudding and the pudding is definitely turning up on Saturday night."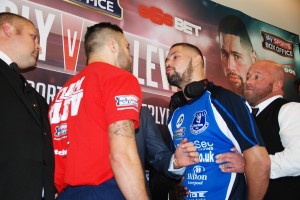 Earlier during the press conference, the pair almost came to blows prematurely when, during the face-off, they had a quiet conversation with each other before Cleverly put his hand in the face of Bellew.
'The Bomber' Bellew slapped it away and the boxers were dragged apart by officials. This comes after Bellew taped the word "fraud" on a poster of his 27-year-old opponent's head during his media workout this week.
The massive Everton fan enters the contest in good form, winning his last two fights at the Echo Arena by knockout, whilst Cleverly lost his 100% record in August last year, but has recovered well to also win his last two bouts by KO.
Former WBO light-heavyweight champion Cleverly taunted 31-year-old Bellew that despite being from Caerphilly, he even has Liverpudlians on his side.
Cleverly said: "I'm back after three years, it's like déjà vu. The hard work's done, the training's done, now it's just a matter pressing the repeat button in the Echo Arena, Saturday night and making it 2-0, silencing this guy once and for all.
"I was walking around Liverpool earlier and it felt as though it was my home town. I have a lot of people come up to me taking photos and telling me they wanted me to silence this guy, so that's what I'm going to do."
The fight sold out in under 48 hours and speaking of his prime-time Sky Box Office-billing, Rotunda gym fighter Bellew told JMU Journalism: "Listen, I'm very proud. If you'd have known me when I was 15 years' of age, I was never supposed to be doing this.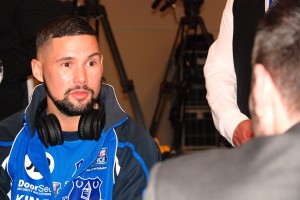 "My name with a poster up there with Sky Box Office, my face is on that wall – it still seems unreal. The only reason I got here is because I believe in myself. I'm very hard-working and I'm very determined.
"You come to my amateur gym and look at the names that I've trained alongside. I should have been the last one up on that board. I've trained alongside some fantastic boxers, Olympic champions, world champions – what am I doing on that board?"
The fighters meet again at the weigh-in at St George's Hall at 1pm on Friday, with the face-off open to the public. Promoter Eddie Hearn has said he will draft in extra security amid fears that tension will boil over.
Additional reporting by Adam Jones