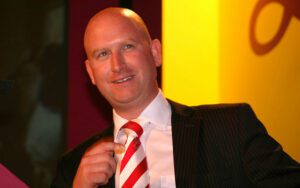 A Liverpool-born politician has announced his bid for the leadership of UKIP, as North West MEP Paul Nuttall threw his hat into the ring.
Mr Nuttall, who hails from Bootle, will be standing for the vacant leader's post following the resignation of Diane James after just 18 days in the UKIP hot seat.
The 39-year-old, who represents the North West region in the European Parliament, says he aims to unite UKIP after bitter infighting gripped the party in recent weeks.
Announcing his bid on the BBC's Sunday Politics show, Nuttall told viewers: "I have huge support out there across the country, not only among people at the top of the party in Westminster and with the MPs, but also among the grassroots.
UKIP contenders
Suzanne Evans
Paul Nuttall
Peter Whittle
Raheem Kassam
Bill Etheridge
David Kurten
Andrew Beadle
"And I want to stand on the platform of being the unity candidate – UKIP needs to come together. I'm not going to be on here and gild the lily. UKIP at the moment is looking over the edge of a political cliff. It'll either step off or it will step back and I want to be the candidate that will tell us to come back."
The current deputy leader hopes to take over from Nigel Farage, despite not running for the post when it became vacant in the summer following the Brexit vote.
Explaining why he chose not to run that time, Mr Nuttall told presenter Andrew Neil: "I felt that with Brexit that my job and Nigel's job was done and we could hand over to the next generation. But that doesn't appear to have been the case and maybe it's time for someone who's an older hand in many ways."
Nuttall is one seven people to have announced their candidacy so far. Nominations for the leadership will close on October 31st, with the winner due to be announced on November 28th.
Today I put my hat in the ring for the leadership of UKIP. I believe I am the unity candidate our party needs to move forward: pic.twitter.com/O95KgDNQ0t

— Paul Nuttall (@paulnuttallukip) October 23, 2016