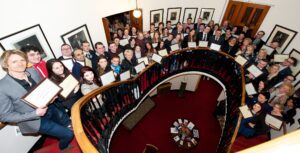 Businesses on Bold Street have won big in the latest annual Mystery Shop awards which were announced today.
The awards, based on figures from a survey carried out by market research group Storecheckers, gave three awards to premises on Bold Street, with Utility winning the Best Independent Shop award; Giancarlo Ricci winning Most Improved Independent Shop; and Soul Café taking the title of Best Eating Place.
The café racked up an impressive 100% customer satisfaction score for the second year running along with neighbouring Café Tabac and Mattas.
According to the survey, a total of 140 stores across the city, both independent and national, scored an average 86.4% approval rating – a 4% increase from the last survey in 2012. Of those, a record total of 30 businesses scored top marks – as opposed to 22 in the previous survey.
As a result of this, the Liverpool Business Improvement District, which commissioned the survey, is offering free training sessions for the staff of more than 60 Liverpool businesses in an effort to raise the standard even higher.
Liverpool BID chairman, Ian Ward, told JMU Journalism: "Liverpool has an excellent reputation as a welcoming place to visit and Liverpool BID are committed to developing that reputation by celebrating these achievements and by providing businesses with training opportunities for their staff to develop these skills."
Among the other Liverpool-based businesses which won awards were the Metquarter's T.M. Lewin, who won Best National Shop; Hooka on Button Street which won Best Service Provider; and Wilkinson in St Johns Shopping Centre which took home the Most Improved National award.
Bill Addy, Liverpool BID's Chief Executive, said: "Providing excellent customer service is critical to the success of any business and it is extremely encouraging to see those in Liverpool city centre are providing an exceptionally high standard to their customers.''