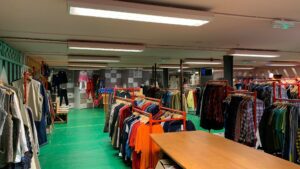 Bold Street businesses are preparing for the second national lockdown with some saying they now know what to expect.
After being in Tier 3 for nearly three weeks,  Merseyside will go into a full 'circuit breaker' lockdown with the rest of the country as the government attempt to stop the spread of coronarivus.
Schools, colleges and universities can stay open, otherwise the latest restrictions are very much the same as the first national lockdown in March that meant people from different households could not mix and pubs, restaurants, gyms, non-essential shops and places of worship must close.
Manager of The Italian Club on Bold Street, Azzurra said: "Last time we didn't change to takeaway because the lockdown was new. We didn't know what was going to happen and how people were going to react to it. But this time I think we know more about it, so we're going to do takeaways."
Red Dog Saloon, which is also based on Bold Street, feel they are better prepared for the second lockdown too. Manager Zsolt Zahorecz said: "We organised everything two weeks before because of the rumours going around [about a second lockdown].
"We now do takeaways, people can come and collect them but we also use Deliveroo and Uber Eats. The first lockdown was busier but we will need a few more days to see how things will be running."
Vintage clothing store WE ARE COW has also had to adjust to the new measures. Manager Lily Geissler said: "Everything will just be online, we are going to have to push the online sales and be very active on our social media as well, making everyone aware that we're still here and when we will reopen. Hopefully we will still be here."
Independent businesses have had to follow Covid-safe guidelines since reopening in June after the first lockdown ended.
Azzurra explained that although the government guidelines were confusing, they adjusted accordingly. All their customers must sign in via a book or use a QR code. They also require all customers and staff to wear face masks. They have also limited the number of staff working in the café but have managed to maintain all jobs.
Some independent businesses on Bold Street such as Leaf have decided to close as a result of continued restrictions.
Where There's Tea, There's Hope ☕❤ pic.twitter.com/yT7x5Ckiwb

— LEAF on Bold St (@LEAFonBoldSt) October 13, 2020