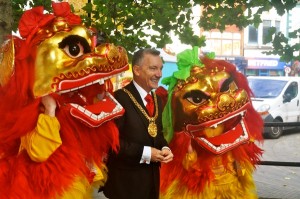 The people of Liverpool turned up in their thousands to watch and take part in the Bold Street Festival on Sunday.
The festival is a celebration of multiculturalism, and was this year dubbed 'The World in One Street'. Beginning at 11:30am with its traditional 'clean sweep', in which those attending the festival and those participating sweep Bold Street with their own, specially designed brushes.
One such participant was Gary Millar, the Lord Mayor of Liverpool.
This was the first year in which Global Diversity Partners was responsible for producing the event, which has taken place over the last five years on the historic Liverpool street.
Garth Dallas, CEO of the company, told JMU Journalism what differences the production company have brought to the festival: "We have involved a lot more cultural diversity this year, with both the audience and the acts, given that we are responsible for the artistic programme."
Such diversity was evident during the event, with a wide variety of acts taking place and different stalls and restaurants offering food native to China, Lebanon and other such countries.
Mr Dallas said: "Liverpool is built on multiculturalism. It is home to a diverse amount of cultures and we wanted to showcase that in Liverpool city centre. Rather than having these different communities celebrate separately, we've brought them together for 'The World in One Street'."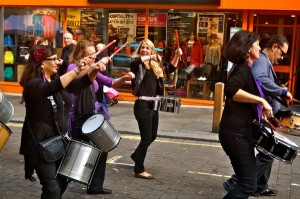 Two stages were set up at either end of the street, and areas were set up for circus acts and child-friendly activities. Highlights of the event included the Movema dance group, who performed near Lyceum Square, and the China Pearl dance act on the top stage.
While all this took place the street was 'patrolled' by various wandering acts, such as the imposing Bouncers. The festival came to an end in the late evening with band performances from Café con Leche and Matria.