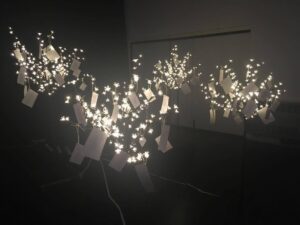 An interactive exhibition exploring men's body image organised by LJMU Drama students took place this week.
The newly-established project, called 'Men Matter', invited visitors to come along and reflect on the issues around men's body image in a variety of creative and engaging ways.
MP3 players were handed out on arrival, which guided guests through the exhibition at the John Foster Drama Studio.
Both males and females received different audio tracks to listen to, with the one for women focusing more on how it can affect relationships and the other for men focusing more on self-confidence.
Males were interviewed on the recording and discussed how they felt about their body image, saying that they often felt overwhelmed with the pressure put on them by social media sites such as Instagram and reality TV programmes like Geordie shore.
YouTube: JMU Journalism
The visuals were also very thought-provoking, with 'confession' style notes hanging from illuminated trees. One note read: "Get the message out there that men have a voice too."
Visitors were then led to a section with body-length mirrors, encouraging people to look at themselves and write down something that they both like and dislike about their own body.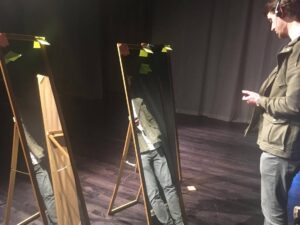 Gareth Heels, one of the creators of the Men Matter exhibition, said: "Men's body image is something that really doesn't get mentioned, ever. I've always been subject to women's campaigns surrounding their appearances and it is quite uplifting. So as a company, we created the project Men Matter to illuminate this subject matter to society.
"I'd say that men struggle with their body image just as much as women at times, maybe more. I believe that we all face the same issues, it's just that we've learnt to deal with them in different ways. However, the ideas of stereotypical gender roles have perhaps guided us to see body image differently.
"I think it's important in this day and age for everyone to be informed and understand that the stigmas surrounding body image effect men too, not just women. We're not so different after all."