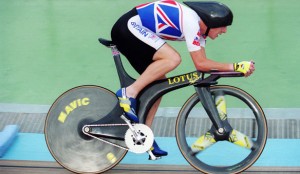 Olympic gold medallist Chris Boardman will give evidence today on cycling safety to the House of Commons Transport Committee.
This will come after the launch of British Cycling's ChooseCycling manifesto at Westminister.
The Wirral-born athlete, who won Olympic gold at Barcelona in 1992, decided to show his support after British Cycling published Cambridge University research which showed that there would be NHS savings of at least £250 million a year if 10% of trips in England and Wales were made by bike.
It was also found that if people replace just five minutes of the 36 minutes they spend each day in the car with cycling, there would be an almost 5% annual reduction in the health burden from inactivity-related illnesses, including heart disease, diabetes, stokes and some cancers.
Boardman told ITV Granada: "Britain is now one of the most successful cycling nations in the world. How can we be getting it so right in terms of elite success but still be failing to truly embed cycling as an everyday part of British culture? This research demonstrates that the impact of more cycling would have positive for everyone."
The ChooseCycling launch has also come following the tragic events in London last autumn, when six cyclists were killed on the roads in a two-week period. They aim to try to raise government spending on cycling from the equivalent of £2 a head to £10, whilst tackling the dangers posed to cyclists by lorries.
Frequent cyclist, Alex Brazendale, 23, who cycles to and from work in Merseyside every day told JMU Journalism: "I think the roads are relatively safe but you've got to keep your wits about you.
"Sometimes it can be as much the cyclist's fault as the drivers. I do think some drivers are inconsiderate, if you as the cyclists makes a mistake, you could get hit. If the person driving makes a mistake you could also get hit. It is very dangerous."
Alex chooses to cycle because it's cheaper, with no petrol or parking chargers, it is his main source of exercise and mostly because he enjoys it. He says: "I fully support this campaign and hope it succeeds. More cycling lanes and more places to padlock your bike in the city centre would be the best thing for Liverpool, I believe."