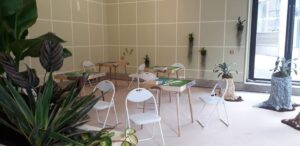 A multi-room exhibition intended to relax and restore the mind has been cut short after the Bluecoat Gallery announced its closure due to the health crisis.
With local theatres closing due to the coronavirus scare, it appeared only a matter of time as to how long the Bluecoat remained open after the installation began on Thursday last week.
In a statement posted on its website, Bluecoat representatives said: "The well-being of our visitors is always of the utmost importance to us, and especially so during this uncertain time."
The new exhibit, 'Pattern Buffer', is by Liverpool-based artist, Francis Disley, whose inspirations came from the things we do to feel better about ourselves, showcasing a number of pieces as prompts for relaxation.
The artworks include hand-painted quits, custom-made domino tables and plant-painted jigsaws.
The exhibition rooms undergo a stark transformation, from cold concrete walls to softly-painted and carpeted environments with pastel colours and soft surfaces.
The walk to the rooms has also been transformed, including the lift and stairwell being incorporated with light coloured paintings and vinyl art.
YouTube: Danielle Wilson
The galleries also include different types of moss and plants, with multicoloured fauna sprouting from the walls and floors. These are known to live together in peace without causing harm to the host, acting as a metaphor for the safe surroundings the exhibition aspires to.
All of the art involved came about after Disley spoke with psychologists from the University of Salford to find out about how different spaces make us feel and the effects colours and plants have on the mood.
The Disley exhibition was originally due to run until June 20th with events including animal movement sessions, family workshops, and kung fu meditation and mindfulness.
Bluecoat's closure statement continued: "We know that art and creativity can provide comfort, distraction, social spaces and a means of expression during difficult times.
"Rest assured that we are already thinking up ways to make sure Bluecoat can continue playing that role for our audiences even if a physical visit is not possible."
Additional reporting by Danielle Wilson
YouTube: Christopher Megrath
https://www.youtube.com/watch?v=3Hm3qnyJ2gA