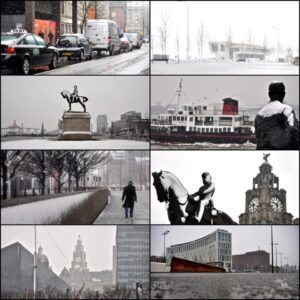 Liverpool faces the prospect of a white Easter as snow has gripped the city again, with a blizzard warning in place and treacherous conditions for pedestrians and commuters.
Snow started to blanket Merseyside in the early hours of Friday morning. Light to heavy snowfall is set to continue until Sunday in Liverpool and across the rest of the UK, with temperatures remaining bitter and slushy roads making driving and transport conditions difficult.
Schools across the region have been closed, while Level 4 JMU Journalism students woke up on Friday to the news that their assessed vox pop exercise was called off until Tuesday
On the sporting front, Sunday's eagerly-anticipated JMU Journalism World Cup Final has already been postponed and will now be played on Sunday April 14.
Bookmakers have slashed to odds on snow sticking around for Easter as temperatures are expected to remain below freezing overnight for the next week, with highs of just 3°C over the weekend.
Will Lang, Chief Forecaster at the Met Office, said: "While it is not unusual to see snow in March, the cold weather we have seen has been quite prolonged.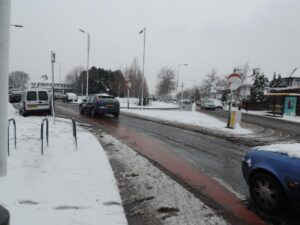 "The next period of wintry weather has some uncertainty at this stage regarding where the worst of the snow will be so it is essential to watch for updates to severe weather warnings.
"As always, we are working with different agencies to help keep Britain on the move, and to keep people safe and well. However, people should be prepared for further disruption as we head through the next few days."
Additional reporting by JMU Journalism