Liverpool's independent businesses are bracing themselves to either suffer a slump in sales or perhaps even to capitalise on the influx of shoppers attracted to Black Friday bargains this week.
The annual shopping event, which originated in the US, take places on Friday November 25th with huge bargains from giants like Amazon and Curry's. The event is so popular that sales have started over a week in advance.
Last year, over £3.3 billion was spent by UK shoppers on the day, making it one of the nation's most successful days for online retail ever.
While many independent store owners say they feel like they are unable to compete with leading online retailers, some are hoping that the increase in bargain hunters expected in town tomorrow will spill over to assist all traders.
YouTube: Sarah Williams, JMU Journalism TV
Gary Carney, Director of Revolver Retail which owns and runs the Bold Street department store, Rex Liverpool, told JMU Journalism: "We don't see a rapid rise of sales on the day as customers aren't going to come here specifically for bargains.
"We're different to any other shop by the experience that we have in store, and the range of independent businesses that we stock. So it's up to us to seize that, rather than saying everything's cheap on this one day, we can say 'well you can come in here and have a different experience than any other shop'."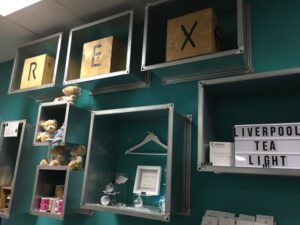 Omar Sharif, owner of Koko in St John's Shopping Centre, feels that consumers get disappointed when smaller businesses can't offer the same bargains as well-known shops.
He told JMU Journalism: "If we put larger discounts on, we don't have enough stock to match up to that. So if we sell six of one item, that whole unit is gone. We still have to pay the larger rental rates than places like River Island so they can afford so sell items for a lot cheaper on one day and still be able to pay their rent.
Mr Sharif believes that the annual event will get bigger in the UK with time, but thinks that most of the hype still remains largely in America.
Despite this, he said: "There is a rise in customers in general on Black Friday. It may not be a huge rise but it's still better than nothing."