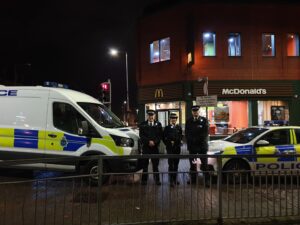 A police crackdown on anti-social behaviour has begun in Birkenhead as they enforced a dispersal zone this weekend.
The idea is for a designated area in which the police or a community support officer can force any group of two or more people to disperse for 24 hours.
The zone lasted from 5pm on Friday night to 5pm on the Sunday and meant that if anybody was asked to leave by the police and they returned afterwards then an offence would have been committed, which could lead to an arrest.
This dispersal stretched from Birkenhead Park over to the Pyramids in a bid to cut down illegal and socially-disturbing activity which can occur along Conway Street and the bus station nearby.
Community Inspector Tom Welch said: "We recognise the impact anti-social behaviour can have on individuals and communities, and we will be targeting people we suspect of being involved in this type of behaviour.
"People going about their legitimate daily business have nothing to fear.
"The dispersal zone gives us the powers we need to deal effectively with people, and I would urge anyone in the area with any information on anti-social or criminal activity in their area to contact 101 or Crimestoppers anonymously on 0800 555 111."
The zone covers the majority of Birkenhead and it is actually more than a 20-minute walk to go from Conway Street to the boundaries of the designated area.
YouTube: Ethan Jukes-Mcnee
https://www.youtube.com/watch?v=G5nSo2Vj3GI
A Merseyside Police spokesman said: "Our dedicated officers were out in Birkenhead policing hotspot areas within the town centre. One bike was seized and a number of individuals issued with a direction to leave the area and the arrest of a wanted male who has been on the run for weeks."
JMU Journalism spoke to a number of locals to gain an insight into what they thought about the initiative.
Alex Strong, 27, said: "I think it will obviously help lower the amount of people looking to cause trouble around here, but I don't know whether that's necessary.
"They could just have some extra police around the busy areas to keep an eye on things."
Tiarna Fisher, a 21-year-old from Birkenhead said: "I think it's a good idea. The area has been getting worse and you get all sorts [of people] hanging around here now. I doubt the police are going to bother people that are not actually giving them a reason too.
"Whether it will actually work and change anything, we'll have to wait and see."