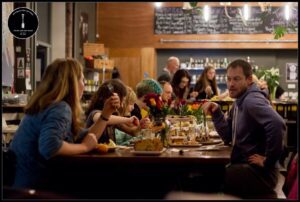 The first 'Binner Party' was held last weekend in Liverpool in a bid to end food waste and help feed people in the community.
The event, made by The Real Junk Food project, uses unwanted food from restaurants, cafés and bars that would have just got thrown out.
Co-directors of the Liverpool's Real Junk Food Project, Gabriella Holmes and Natalie Hughes-Crean, told JMU Journalism: "The Binner Party went really well. We saw a lot of new faces and were able to say thanks to some of the people who have supported the project so far."
Liverpool's branch started in November, doing pop-up catering for other events and venues.
Holmes and Hughes-Crean continued: "By bringing people together to eat and share a meal, we promote social cohesion and shared understanding. When people see first-hand just how much edible food is wasted, they can't help but want to do something to change that."
The Binner Party and project runs off a 'pay as you feel policy' concept so people can either give a donation, donate unwanted food or volunteer their skills. The co-directors believe everybody has something to offer, not necessarily just money.
The project's founder Adam Smith is a trained chef and has opened cafes in Leeds which use unwanted food effectively. The project, which is now in different parts of the country, has stopped 35 tons of food being wasted and served 20,000 meals.
Holmes and Hughes-Crean added: "The main aim of these parties and the project in general is to reduce food waste. It just happens to be that feeding people is the fastest way to do that.
"In a world where millions of tonnes of food is wasted every year, there should be nobody going hungry and yet in the UK alone, we see figures stating that the number of people accessing food banks has actually increased compared to the previous year."
It's estimated that global food waste is 30-50% of the total food produced, equalling 1.3 billion tons. The project's main aim is to get the law changed to prevent the UK from wasting food and people going hungry.
"The global food waste problem is huge and will take increased awareness, public education, policy change and a whole shift in attitude to make a lasting difference. However, this a good place to start, one Binner at a time," Holmes and Hughes-Crean added.