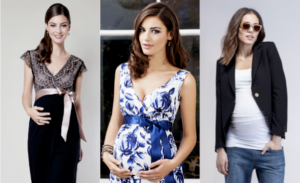 The Metquarter is opening its doors to a new store  dedicated to dressing the yummy mummies of Liverpool.
The Pudding Club, which opens on February 5th, will be the city's first specialist boutique for those expecting, offering maternity jeans in all shapes and sizes and stocking leading brands, such as Paige and J Brand.
Store owner Alexandra Macleod launched her first store in Knutsford to enable mums-to-be to have a stylish, pregnancy wardrobe. Once it became a success she had her heart set on a sister shop in Liverpool.
"Many of my Knutsford clients were travelling from Liverpool and after attending the opening of the Metquarter I immediately thought of it as the perfect place to open another shop," she told JMU Journalism.
Working mums are provided for, with the store offering a selection of tailored trousers and work shirts by Vanessa Knox, worn by the likes of Heidi Klum, Natalie Portman and Jessica Alba. A SPANX range of maternity underwear has also been introduced.
Alexandra added: "This is a brilliant add to our occasion wear brands, such as Tiffany Rose and Isabella Oliver, as women are wearing more clingy maternity styles and require the right underwear.
"Women are at a time in their lives when their bodies are constantly changing and they can find this transition daunting. Sexy and feminine lingerie helps to raise their self-esteem and confidence, in addition to a capsule wardrobe which will take them through pregnancy and beyond."
With an ethos to spoil its customers, the store promises styling knowledge and advice for its visitors, putting them at ease throughout their shopping experience and ensuring they are comfortable and well-dressed throughout their pregnancy.