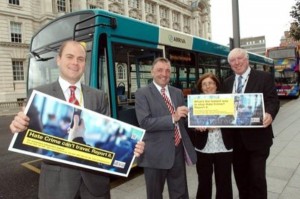 A crime reduction campaign has been launched across Merseyside public transport to tackle hate crimes.
The 'Stop Hate' campaign is expected to make bus and train journeys across Merseyside safer for passengers, as it aims to reduce the number of hate-driven crimes, providing 24-hour support and information to those affected by such attacks.
Mark Leighton, Stop Hate UK Reporting and Support Programme Manager, said: "Stop Hate UK are absolutely delighted that Merseytravel is part of a wider partnership promoting safety across the Merseyside transport network."
There are already a number of police-led operations across Merseyside public transport that aim to reduce violent crime, and it is hoped that the campaign will lower the number of incidents on trains and buses further.
Merseyside's Travelsafe campaigners will work in partnership with Merseyside Police and also Liverpool, Wirral and St Helens Councils to make the movement a success.
Councillor Liam Robinson, chair of Merseytravel told JMU Journalism: "I am very supportive of the work we do to tackle hate crime, as whilst we have one of the safest transport networks in the country, we should always tackle any forms of discrimination that arise."
The launch will see around 800 buses carrying the Stop Hate UK branding, and see more than 200 poster sites promoting the programme across Merseyside.