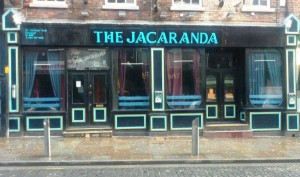 Two university students are attempting to keep the memory of the famous Liverpool Jacaranda bar alive, despite its closure.
The Jacaranda, best known for being the first venue to host The Beatles, closed down in November 2011. The club, at 23 Slater Street, was formerly owned by Allan Williams, who became The Beatles' first manager, as a result the Fab Four often played and rehearsed there.
Natalie Longworth and Chynna Sampson, who are studying Music Journalism in Huddersfield, are carrying out the project as a result of their passion for music and to encourage those who used to frequent the Jacaranda to send them memorabilia and pictures from their time there via their Facebook page, The Jacaranda – Beyond The Music.
They said: "We think it's extremely important for the Jacaranda to be remembered. Live music is such an integral part to the music industry and it's a sad day when any venue closes its doors for the final time. The Jacaranda has such a rich history, it would be a real shame for it to become lost but with the help of those that went to the Jac, that memory will be kept alive."
The students hope to introduce The Jacaranda to "a new audience of people who never had the chance to go themselves".
They said: "It's not that we are dwelling on the past – undoubtedly it is a shame that venues do close, but we want this to be a celebration."
To share your images or memories of The Jacaranda, email [email protected]. There will be an exhibition at Heebie Jeebies nightclub on Saturday 6th April.