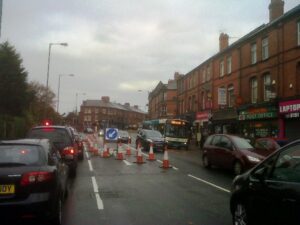 Liverpool's council cabinet will be asked on Friday to give the go-ahead for plans to invest £80 million to improve the city's road network.
The investment bid will allow for improvements to be made to the worst sections of the network, including gateway to the city, Edge Lane.
Mayor Joe Anderson said: "A lack of investment over a number of years has seen roads deteriorate."
Future work is expected to include the resurfacing of carriageways and repair of potholes.
Anderson added: "I am constantly talking to local people about the potholes and damaged road surfaces which not only damage cars, but damage our city's image. We want to take significant steps in putting that right."
As well as Edge Lane, areas that could potentially benefit from the highway investment include: Smithdown Road, Parliament Street, Upper Parliament Street and East Lancashire Road.
Funding for the highway maintenance is expected to come from capital and capital investments, with additional help being sought from private and other public sector funding, such as utility companies.
The investment is part of plans to reduce Liverpool's £256m maintenance backlog.
Councillor Nick Small told JMUJournalism: "This is a proposed capital investment programme that would upgrade and improve some of the key routes into and around the city, but would also reduce ongoing revenue spending on dealing with claims against the council.
"That's why it stacks up financially and makes sense for residents and businesses by improving connectivity."