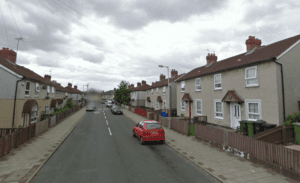 The controversial Channel 4 show Benefits Street has targeted a Wirral location as producers seek a new setting for their second series.
Some residents from Fairbrook Drive in Birkenhead North have protested in outrage after receiving letters from Love Productions asking them to be involved with the show.
Bidston councillor Jim Crabtree, who lives near the area, was approached by one local who was unhappy with the production company.
Cllr Crabtree told JMU Journalism: "I don't like it… they can get lost as we don't want them here. I never watched Benefit Streets, after the first two minutes I turned it over.
"There is hardly anyone on benefits around here."
In the letter, researchers say they are looking for "a strong community where neighbours look out for one another" and people who "have really interesting stories to share" about living on benefits.
Love Productions, a UK-based company set up in 2004, confirmed that they were currently planning on filming a second series of the show but refused to confirm where it might be based. When JMU Journalism contacted the firm we were told nobody was available to comment as staff were out scouting locations.
Borough Councillor Harry Smith, who also represents the Bidston and St James ward, told JMU Journalism: "We have been left in the dark by the production company. It's such a shame that they have targeted the area without consulting us.
"Because they haven't consulted with the local council it makes you wonder whether they're going to do a hatchet job."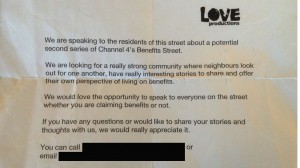 Benefits Street first aired on Channel 4  in January this year and filmed the lives of a community on James Turner Street, Birmingham.
It featured some benefit claimants who may have been involved in alleged criminal activity, which sparked a national conversation about Britain's welfare system, resulting in questions raised in Parliament and public complaints to broadcasting watchdog, Ofcom.
Alec McFadden, President of Merseyside TUC and Secretary of Wirral TUC, is strongly against the programme coming to the area.
He told JMU Journalism: "I sincerely hope it doesn't get filmed, unless I can give them advice and information on it otherwise. It is an absolute tragedy watching young people standing on street corners with no money."
The show is currently on the lookout for participants to appear in the next series, as they state on the company website: "Benefits Street has highlighted many important issues that affect communities across the UK. We want to hear from other people living on similar streets who would be interested in taking part in a second series."